Welcome!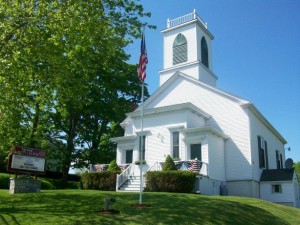 Bowdoinham Second Baptist Church wants to welcome all to join us in praising the Lord every Sunday!
Bowdoinham Second Baptist Church will be open for the Sunday Service at 10:00 on 5/17/20. However, in an effort to mitigate the potential risk of spreading the Coronavirus, the service will be held behind the church in the parking lot and relayed via a localized AM radio transmitter. Folks are asked to remain in their vehicles and tune the radio into AM1690 to hear Pastor John Ross relay God's word!
See our YouTube Channel for the latest video recordings of our services or the Sermon section above for an audio only version.
https://www.youtube.com/channel/UCs5iwnUANMu4HthRYzkJVCw/featured
Location & Typical Weekly Schedule
We are located at 1 Church Street in scenic Bowdoinham, Maine. Check our Location section for a link to Google Maps.
Sunday worship service is from 10:00AM to 11:00AM.
Communion is the first Sunday of every month.
On the third Sunday of every month, a pot luck lunch is held directly following the service!
Please check our Facebook page or our Events page for current events!
We hope to see you at a service or any of our other events!