Welcome!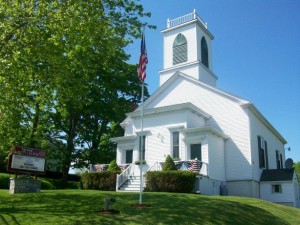 Bowdoinham Second Baptist Church wants to welcome all to join us in praising the Lord every Sunday!
Location & Typical Weekly Schedule
We are located at 1 Church Street in scenic Bowdoinham, Maine. Check our Location section for a link to Google Maps.
Sunday worship service is from 10:00AM to 11:00AM.
Communion is the first Sunday of every month.
On the third Sunday of every month, a pot luck lunch is held directly following the service!
Please check our Facebook page or our Events page for current events!
We hope to see you at a service or any of our other events!
A Men's Bible Study is held every Saturday morning at 7:00am.
A Women's Bible Study is held every Sunday morning at 9:00am.
A Prayer Meeting and Bible Study is held every Wednesday at 6:30pm.
See our YouTube Channel for video recordings of our services or the Sermon section above for an audio only version.
https://www.youtube.com/channel/UCs5iwnUANMu4HthRYzkJVCw/featured