Pastor John Ross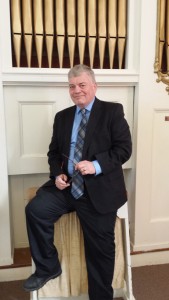 PASTOR JOHN P ROSS
Rev. John P. Ross has served the Second Baptist Church in Bowdoinham since 2014 first as Interim Pastor and then taking the reigns as Pastor in September, 2016. Pastor John has a passion to communicate and connect the relevance of the church and the Christian faith in today's world. He strongly believes people are looking for meaning and purpose and that only a personal relationship with Jesus Christ can satisfy.
Pastor John grew up in the beautiful Margaree Valley, Cape Breton Island, Nova Scotia. He was the oldest of four boys and was steeped in celtic tradition learning to step dance at an early age. In his mid teens he realized his life was empty and meaningless until someone introduced him to the meaning of a personal walk with God. It wasn't long afterwards that he sensed God's call to full time ministry. He attended Crandall University (formerly, Atlantic Baptist College) in Moncton, NB where he received a Diploma in Biblical Studies. From there he went on to Tyndale College & Seminary in Toronto where he received a Bachelor of Religious Education (BRE) and Bachelor of Theology (B.Th). He later graduated from the Moody Theological Seminary in Chicago with a Masters in Arts (M.A) degree. He has served churches in Millville, New Brunswick where he was ordained, Bathurst, NB, Hanover, Massachusetts and in Dexter and Caribou, Maine.
In 1978 he married Joan from Gorham, ME and are soon celebrating 39 years of marriage. Joan is employed as a Care giver at Mercy Hospital Home Health and Hospice in Portland since 2008. They live in Gorham and are the proud parents of Jessica, her husband Doug and three children, Maude, Ira and Beatrice in Presque Isle; son, Matthew and his wife Mallory in Naples; and Micah, in Gorham. They also love their Sheltie, Noah, and Rascal the cat.
Beyond his pastoral work, John enjoys being a Limousine Chauffeur where he has had opportunity to drive some famous people like Lady Gaga, members of the Bush family and others. He enjoys life, laughter, reading, travel, and is an avid Boston Bruins fan. And he will be greatly disappointed if there is no celtic music in heaven. His life goal is to love God, love people and make disciples!! He is always available for a cup of coffee and some great conversation!!!